The amount of labor reduction in sowing and thinning out and the uniformity in crops are defined by the sowing method.
Seeder Tape Sowing Method realize the ideal sowing method which neither hand-work nor machine-work (sower) could do.
In our method, we deposit seeds into the tape such as water-soluble film called Holceron or bio-degradable nonwoven called Meshron with a precise device called seeder machine, instead of sowing directly in soil, and this process could be done in room so we can conserve the precious seeds without wastes and deposit them into a tape with precise intervals and exact number of seeds. Then we wind up the tape into a reel. This tape with seeds in it is called "Seeder Tape". So this seeder tape is to be laid in field with a machine called "Tape Seeder". Of course depth or pressure of covering soil could be adjusuted, sowing conditions including interval distance and number of seeds will be able to be totally controlled into a fixed target. This is actually an ideal sowing method.
Only one seed being sowed per place in order to avoid thinning out unnecessary seedlings, there should be no vacant hill. Also being sowed in multi grains, each grain should be in equal level in soil and have adequate space to another so that the operation of thinning out is reduced in labor. Then germinating and growing on just one straight line, every seedling should have enough sunshine and get good ventilation which makes them grow in real healthfulness.
In recent years, with seeder tape, sowing and other operation such as mulching being done simultaneously, there has appeared significant decrease of labor. Various applications, such as forced sprouting with meshron's specification of soaking in water, are designed. Seeder Tape Sowing Method has been becoming to indisipensable system not only for precise sowing but also for combined operations.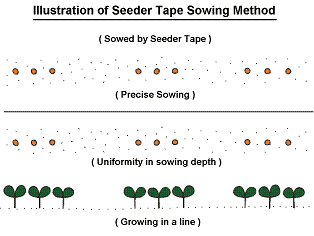 Seeder Tape
We accept seeds from customers, after manufacturing seeder tape with the seeds, wining it into specific reel, we send "Seeder Tape" to customers.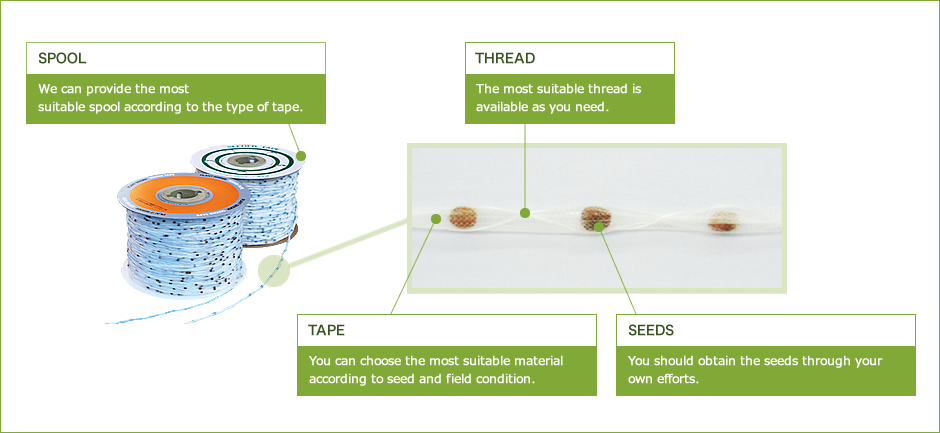 Applicable Seeds
Roots
Daikon (Radish), Burdock, Carrot, Onion, Welsh Onion, Turnip
Leaves
Spinach, Cabbage, Chinese Cabbage, Lettuce, Broccoli, Cauliflower and other Brassica Leaves
Fruits
Water Melon, Melon, Tomato, Cucumber, Eggplant, Paprika
Others
Flower, Corn, Propagule, Rice, Bean, Herb, etc.
"Seeder Tape"、"Tape Seeder"are our trademarks registered in Japan
Nippon Plant Seeder Co., Ltd. (subsidiary of Ozu Corp. listed on the first section of the Tokyo Stock Exchange) was established in 1963 with a purpose of contributing to reduction of labor in Japanese farming, as our company philosophy. In agriculture, there had been needed much severe hand work. And people thought it was indispensable those days. Then we have been striving for the spread of the "Seeder Tape Sowing Method". As a result, "Seeder Tape Sowing Method" has become to be known widely on Japanese agricultural community as the best sowing method.
Moreover, in recent years, the expectation for "Seeder Tape Sowing Method" has been increasing all over the world. It is our natural duty to respond to this expectation.
Therefore we have decided to take a great leap forward so that we might become one of the companies which contribute to the improvement in the international vegetable production. We have every confidence that this relationship, spreading "Seeder Tape Sowing Method", will enrich life of people in the world.
Please expect the future of Nippon Plant Seeder Co., Ltd.

President, CEO and Representative Director
Katsumi Endo
Company Name
Nippon Plant Seeder Company Limited
Representative
President, CEO and Representative Director / Katsumi Endo
Date of Establishment
8 / Apr / 1963
Stock
85 million (JPY)
Business Contents
Manufacturing and Sales of Seeder Tape and Instruments connected with Seeder Tape
Chief Articles
・Seeder Tape
・Seeder Machine
・Material for Seeder Tape
・Tape Seeder (hand-pushing, tractor-pulling, and so on)
Number of Employees
74(As of 1/June/2015)
Directors
Representative Director:Katsumi Endo
Director:Eiji Imaeda
Drector:Mitsuo Nakano
Auditor:Shigeru Murao
Auditor:Hidekatsu Kase
Bank
The Bank of Tokyo-Mitsubishi UFJ, Ltd.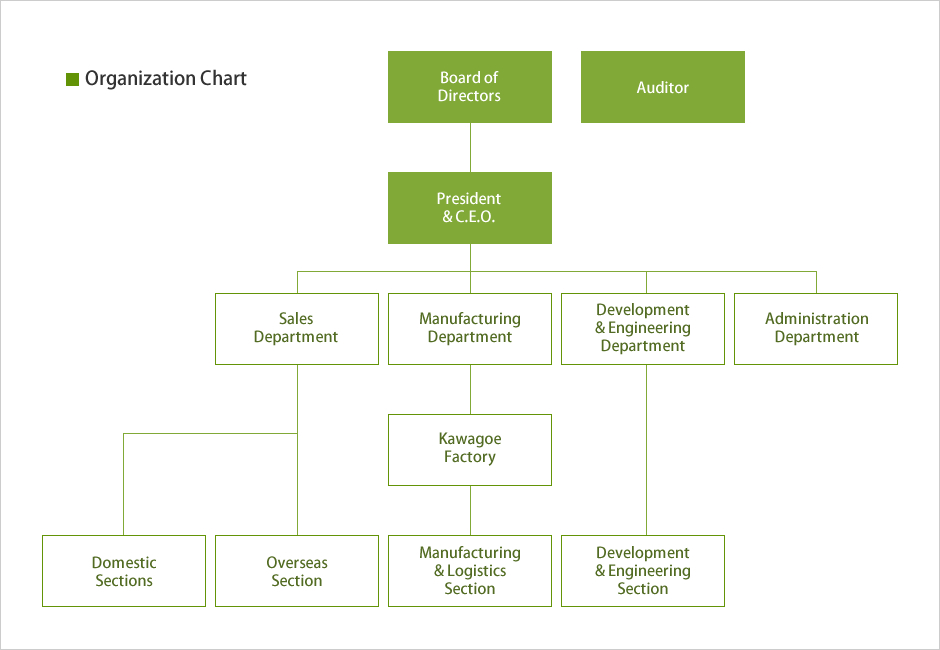 Office
4-9-2 Nihonbashi-honcho, Chuo-ku, Tokyo 103-0023, Japan
TEL: +81-3-5623-1183
FAX: +81-3-5623-1187